Firoozeh Azarbaidjani-Do

Phoenix TS
CEO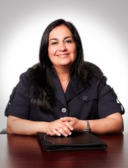 As a seasoned entrepreneur and educator, Firoozeh is at the forefront of providing quality educational opportunities to students at all learning levels through her organization, Phoenix TS. Her business operates on the vital mission of not just making profits for the company but on reaching outside of the organization and making a difference in the society surrounding us.

Firoozeh was born in Iran, attended French schools, grew up in Mallorca, Spain, is fluent in five languages and is now operating her IT and management training school out of Columbia, MD. To say that she is well-traveled is an understatement. Her educational influence is formed from global roots and that is what she brings into her classrooms every day. While she is no longer leading courses in MS SQL Server, MS Visual Basic.NET or Project Management, she still makes an appearance every week to her on-site classes and discusses with students their career paths and professional endeavors. Her goal at Phoenix TS is to continuously make a difference in the students' personal and professional lives by giving them the skills needed to get ahead in their careers.

Firoozeh firmly believes that successful businesses have an obligation to give back and share their success with their communities. After making multiple appearances on the Inc. 5000 list and Baltimore's Best Places to Work as well as being recognized as an Employer Support of the Guard and Reserve Patriot award winner, success has surely been achieved at Phoenix TS. Likewise, the organization has given back in the form of Habitat for Humanity rebuilds, Moms Against Poverty organizational support, Food Bank participation, Diabetes support walks and in cultivating STEM learning within area high schools.

Firoozeh's goals are to continue to impact the world around her through education and charity whenever possible.