Anne Neuberger

NSA
Director, Cybersecurity & Deputy National Manager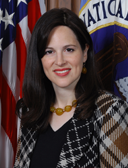 Anne Neuberger is the National Security Agency's Director of Cybersecurity, responsible for directing NSA's cybersecurity mission. Prior to this role, she led NSA's Election Security effort and served as Assistant Deputy Director of NSA's Operations Directorate, where she led NSA's foreign intelligence and cybersecurity operations. She also previously served as NSA's first Chief Risk Officer, as the Director of NSA's Commercial Solutions Center, responsible for NSA's partnerships with the private sector, as the Navy's Deputy Chief Management Officer and as a White House Fellow, working for Secretary of Defense Robert Gates.
In 2017, Anne was awarded a Presidential Rank Award for her service at the National Security Agency.
Prior to joining government service, Anne was Senior Vice President of Operations at American Stock Transfer & Trust Company (AST), where she was responsible for directing operations, including dividend distributions, complex mergers, and acquisition processing for approximately 2,000 publicly traded companies.
EDUCATION:
Anne earned an MBA, Beta Gamma Sigma, and a Masters of International Affairs from Columbia University. She graduated from Touro College, summa cum laude, where she was awarded the Hannah Lander Award for Academic Excellence and a Merit Scholarship.
Other
Anne has lectured on cybersecurity, public/private partnerships, risk, surveillance/civil liberties and national security as a guest lecturer at Harvard University, Stanford University and Columbia University. Anne founded a not for profit that serves single mothers across the U.S., and serves on the boards of several charities assisting women, children with life threatening illness, and individuals with ALS.