R.H. Powell

Akamai Technologies
Vice President, Global Security Services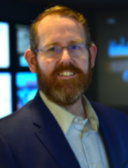 R. H. has over 20 years of experience leading and managing systems integration efforts for public and private sector customers. He holds a degree in Computer Science from Washington & Lee University. He joined Akamai over 16 years ago after 9 years working at Accenture as a systems integration manager for telecommunications customers. R. H. is the Vice President responsible for Akamai's Global Security Services team which integrates, manages, and ensures customer success for all Akamai Security solutions.

Before taking on this role, R. H. built out the Security Services Americas team, Akamai's Services Security Center of Excellence (SCoE) and was responsible for the successful creation and delivery of Akamai's Threat Advisory Service to help customers better understand the cross industry threats Akamai observes and defends. R. H. previously led Akamai's Public Sector Professional Services organization which serves Federal and DoD Agencies, including every branch of the US Military. His first client at Akamai was the Global Combat Support System (GCSS) for the US Air Force where he worked to build and deploy a mutual authentication solution leveraging Akamai's distributed platform: a system that is in use 24x7 today.

In all of his roles at Akamai, R. H. has been tasked with ensuring we are creating customers who enthusiastically recommend Akamai. He is based of Reston, VA.