Thomas MacLellan

Symantec
Director, National Homeland Security Policy and Government Affairs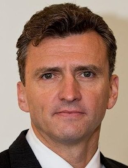 Thomas MacLellan is Director of National Homeland Security Policy and Government Affairs for FireEye for the United States and Canada. In that role, he supports governments and education systems in their efforts to improve cybersecurity policy.

Prior to joining FireEye, Mr. MacLellan was Director of Homeland Security and Public Safety for the National Governors Association Center for Best Practices. In that capacity he worked with governors and their senior advisors and cabinet officials for over 16 years on policy issues of national importance, including cybersecurity, electronic crime, forensics, public safety broadband, justice information sharing, prescription drug abuse, privacy, energy assurance, and a range of other homeland security and public safety related issues.

In addition to helping train governors and their homeland security advisors on disaster response,
Mr. MacLellan created and directed NGA's Resource Center for State Cybersecurity, the first national effort aimed at assisting governors in improving their state's cybersecurity. Through that effort, Mr. MacLellan hosted the first all-state summit on cybersecurity aimed at helping states improve their governance, posture, and response capabilities. The summit brought together governors-designated teams comprised of chief information officers, chief information security officers, homeland security advisors, emergency managers, heads of state law enforcement agencies, budget and tax official, as well as others.

Mr. MacLellan also directed the Governors Homeland Security Advisors Council (GHSAC) and established the first national network of governors' criminal justice policy advisors. He co-created the National Governors Association's Prescription Drug Abuse Policy Academy that aimed to reduce overdoses and deaths by illicit use of prescription drugs and the Justice Information Sharing Project that helped improve how states share information across the components of the their justice systems.