Zia Anderson

Cybersecurity and Infrastructure Security Agency (CISA)
FedVTE Program Lead, Cybersecurity Education & Awareness Branch, Cybersecurity Division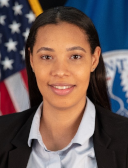 Zia Anderson serves as an Information Technology Specialist within the Cybersecurity Education and Awareness Branch (CE&A) in the Department of Homeland Security's (DHS) Cybersecurity and Infrastructure Security Agency (CISA), Cybersecurity Division. CE&A oversees multiple nationally-focused programs and initiatives to increase general cybersecurity awareness throughout the country as well as to develop and increase the cybersecurity workforce.

Specifically, Ms. Anderson is the Program Lead for the Federal Virtual Training Environment (FedVTE), providing Cybersecurity training and courses for over 230,000 registered users.

Previously, Ms. Anderson has led Cyber Hardening efforts for government high-value assets (HVAs), monitored vendor FedRAMP and FISMA compliance, and automated enterprise cyber hygiene reporting using Cyber Scorecard 2.0.

Ms. Anderson graduated with a Bachelor of Arts from Dartmouth College. She is pursuing a Master of Science in Cybersecurity Technology from University of Maryland University College.