Dr. Mansur Hasib

University of Maryland Global Campus (UMGC)
Award Winning Cybersecurity and Healthcare Leader, Author, and Media Commentator Program Chair, Cybersecurity Technology, The Graduate School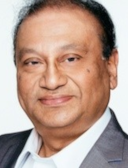 In 2017, at a ceremony in Austin, TX, (ISC)2 named Dr. Mansur Hasib a "Rock Star" of cybersecurity and presented him an electric guitar along with the (ISC)2 Americas Information Security Leadership Award (ISLA) for leading the implementation of the Master of Science in Cybersecurity Technology degree program at the University of Maryland Global Campus (UMGC). In 2018 the Global Cybersecurity Observatory based in Spain inducted Dr. Hasib into their Hall of Fame. In 2018 SC Magazine awarded UMGC Best Cybersecurity Higher Education Program award. UMGC won this award once again in 2019. Dr. Hasib won the 2019 Outstanding Global Cybersecurity Leadership award from ICSIC, Canada.
Dr. Hasib also won the 2017 Cybersecurity People's Choice Award and the 2017 Information Governance Expert of the Year Award. He has 30 years of experience leading organizational transformations through digital leadership and cybersecurity strategy in healthcare, biotechnology, education, and energy. He served as Chief Information Officer for 12 years. His seminal book Cybersecurity Leadership (available in ebook, paperback, and audio) has been widely acclaimed by practitioners and scholars alike and is listed among the best IT and cybersecurity books of all time. In 2013, as part of his doctoral work, Dr. Hasib conducted a national study of US healthcare cybersecurity and published the book Impact of Security Culture on Security Compliance in Healthcare in the USA and became one of the first few in the world to earn a Doctor of Science in cybersecurity.
Additionally, with a Bachelor's degree in Economics and Politics and a Master's degree in Political Science, Dr. Hasib brings a unique interdisciplinary perspective to anything he discusses. Dr. Hasib enjoys table tennis, comedy, and travel and has been to all 50 states of the USA. Follow him on Twitter @mhasib or LinkedIn: www.linkedin.com/in/mansurhasib. To access more content or to contact Dr. Hasib, visit: www.cybersecurityleadership.com.