Diane M. Janosek

National Cryptologic School, National Security Agency
Commandant," 2019 Cyber Warrior Woman of the Year"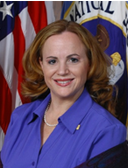 Diane M. Janosek is currently the National Security Agency's Commandant for the National Cryptologic School, which contains five colleges to include the College of Cyber and College of Cryptology. Ms. Janosek manages and oversees the delivery of unique offerings for the nation's civilian and military intelligence global workforce in the areas of cyber, network security, cyber resilience, and encryption to ensure a strong federal workforce to defend critical national security networks.

Previously, she served in leadership roles in National Security Agency's Directorate of Technology to include serving as the Deputy Chief Information Security Officer. She has served in a variety of legal, policy and executive management positions in the U.S. Government judicial and executive branches, to include Chief Legal Officer to the Privacy and Civil Liberties Oversight Board, and as Legal Counsel at both the White House and the Pentagon. She is admitted to the Supreme Court of the United States and is certified in information and network security (CISSP). She is a member of the Defense Intelligence Senior Executive Service (SES) and holds an active Top Secret (TS/SCI) clearance. She has published a plethora of articles and serves as an Adjunct Professor at the National Intelligence University in Washington D.C. in the Master of Science in Strategic Intelligence/Technical Intelligence program.

Ms. Janosek's areas of expertise include privacy and technology, governance and data policy, export control, defense acquisition, and information security. In her current role, she is committed to the educational, leadership, professional and practical learning needs of the nation's cyber workforce in today's dynamic threat environment.