Loyce Pailen

University of Maryland Global Campus (UMGC)
University of Maryland University College Director, Center for Support of Instruction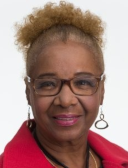 Dr. Loyce Pailen is the Associate Provost, Office of Instructional Support and Services, University of Maryland University College (UMUC). The OISS is responsible for online Course Development and the Center for Support of Instruction (CSI) who work with faculty to assist with classroom setup, course design, quality assurance, virtual labs and the introduction of new technologies. Previously, she was the Assistant Academic Director for the Information Systems Management (IFSM) discipline responsible for the undergraduate Information Assurance curriculum. She has experience in supporting students, faculty, and staff; developing courses, coordinating course design and implementing instructional technology with specific emphasis on distance education and virtual labs.

Dr. Pailen came to UMUC in 2002 after working at The Washington Post Company for over 20 years in various programming, management and directorial positions in newspaper and corporate information technology where her duties included responsibilities for selecting and implementing enterprise-wide hardware, software, business applications and telecommunications services and disaster recovery analysis and planning. She has studied at UMUC at the undergraduate and graduate levels and earned a Doctor of Management where she was also an Orkand Fellow.

Dr. Pailen holds certifications for Certified Information Systems Security Professional (CISSP); Citrix Certified Administrator; CompTIA Network+; JAVA Development Certified Professional; Microsoft MOUS; and Certified NetWare Administrator.